Here you will find information and photos from our past events. It will be updated shortly after the events themselves are finished. You can also find links to papers, presentations, and other useful items that were shared at our events. Comments are welcome (may be removed when a new event is posted) and we would love to hear from you if you where there. New events will be added to the top of the page and older events will be toward the bottom of the page.
If you have specific questions about an event or information contained here, please use the contact form to contact the officers directly.
PanSIG 2016 
The JALT Critical Thinking SIG was in attendance at the 2016 PanSIG International Conference in Okinawa (Not so sunny while we were there). The forum featured Adam Gyenes, Hiroshi Nakagawa, and Shaun O'Dwyer who gave interesting and thought provoking presentations on CT. We had the meaning of Critital Thinking, how CT could be implemented in a reading/writing class, and how CT has been implemented in a university course. We had a small number of attendees this year, but those who were there, were very enthusiastic about critical thinking and teaching languages. See below for some photos from PanSIG and the JALT Critical Thinking SIG Forum.
Adam Gyenes talking about the history and definition of critical thinking.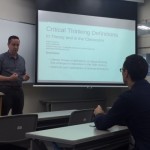 Hiroshi Nakagawa speaking on the implementation of critical thinking in classroom.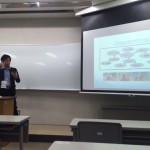 Shaun O'Dwyer reporting on his implementation of critical thinking with real materials in the university classroom.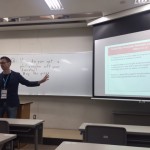 Overall it was a successful forum and we hope to have more of the CRIT SIG members in attendance in 2016 JALT International!
PanSIG 2015 featuring 3 CT SIG presentations in the CT SIG Forum
Your CT SIG gave a total of five presentations at PanSIG 2015. The attendees were great and many ideas were shared. If you could not make it, we hope you can join us at our Forum in November at JALT International.
Carey Finn-Maeda presents on integrating CT into English discussion courses.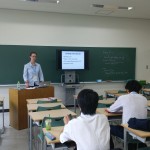 Roehl Sybing presenting on Critical Thinking in Comprehension tasks.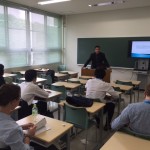 James Dunn leading a discussion on weak Critical Thinking skills in 1st year university students.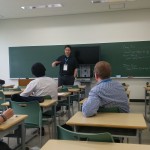 Hiroshi Nakagawa representing the CT SIG at our….."booth".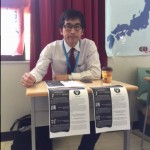 We hope you can join us next time!
ETJ Expo featuring six CT SIG presentations
Your CT SIG gave six presentations in Sendai for the ETJ Expo Tohoku. We had a great time with some great attendees. Check out the photos below.
Hiroshi Nakagawa presenting on VLOG activities in reading/writing classes.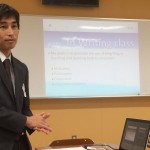 Jennie Roloff Rothman presenting on using group projects to raise awareness of global issues.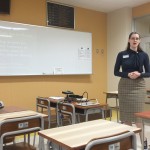 Anthony Fenton presenting about higher education and quality control in universities.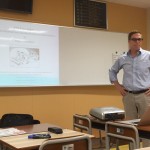 David Gann showing us how he is breaking down textbooks for critical thinking skills.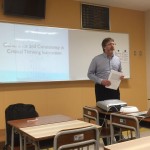 James Dunn presenting the results of his action research on metacognition and reading comprehension.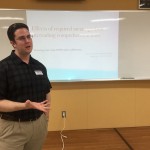 The crowds kept getting bigger and bigger as the day went on and all the presenters fielded some great questions and comments. We hope we can do it again next year as it was a great success! We hope you can join us at our next event, to be announced soon!
JALT CT SIG 2014 Forum in Tsukuba
Wayne Malcolm introduces the presenters. The Forum was a great success!
Presenters Michio Mineshima, Anna Isozaki, and Greg Goodmacher.
Our third CT SIG Forum was a lot of fun with three presenters on various CT topics. If you attended, thank you for coming and we hope to see you again next year! If you watched the webcast, thank you for watching and we hope we can see you in Shizuoka next year! If you missed it, we hope you can join us at Shizuoka next year for the fourth CT SIG Forum! 
We are looking for presenters next year, so if you are interested in participating in a CT SIG event, let us know! Go to the *about* page and email the program chair (make sure to CC the ctscaneditor@gmail.com for all initial correspondence) to find out how you can be involved!
Thanks again for allowing us to do this for you and we hope next year's forum will be even better!
Pan SIG 2014 in Miyazaki
May 10th and 11th, at the PanSIG 2014 conference held at Miyazaki Municipal University the CT SIG was formally represented by Coordinator, David Gann. He gave one talk and one interactive presentation, which engaged members and non-members alike. Also under the Critical Thinking category were Jennifer Saunders and Robert Werner. Each presenter was able to engage participants over open forums and posters presentations. Other CT SIG members appeared under the banner of other SIG categories, which epitomizes the dynamic and interactive natures of CT SIG members. More information regarding presentations will appear in this space in the coming weeks and months. Brief summaries regarding presentations at PanSIG 2014 that had a critical thinking spin and were given by CT SIG representatives will be posted.
Link for David Gann's presentation: HERE
Supporting Videos for David Gann's presentation: STEP1     STEP2
Critical Thinking/Speech, Drama and Debate/Literature in Language Teaching Joint Forum at Pan-SIG 2013 in Nagoya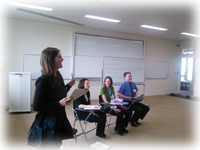 Tara McIlroy (LiLT)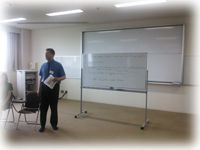 David Gann (https://tus.academia.edu/DavidGann)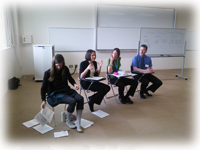 Jane Nakagawa
2013 NEAR Language Education Conference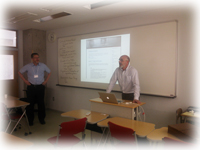 David Gann and Nick Bufton presenting on Test Reconstruction Exercises
CT SIG Forum, JALT2013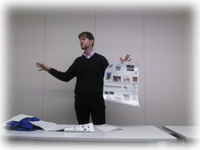 Brian Cullen presenting on Metaprograms
2012 CT/SDD Joint Mini-Conference in Toyohashi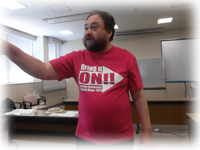 David Kluge (SDD) presenting on debate
2012 PanSIG at University of Hiroshima
Jennie Roloff-Rothman presenting on stereotypes in media and
Philip Shigeo Brown presenting on critical discourse analysis